Cabrillo Marine Aquarium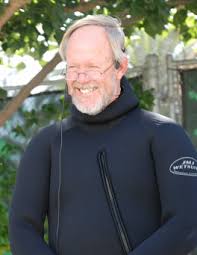 Mike Schaadt, Director, Cabrillo Marine Aquarium
Mike Schaadt, a life-long Southern Californian, is Director of Cabrillo Marine Aquarium (CMA), which is owned and operated by the City of Los Angeles, Recreation and Parks Department with support from FRIENDS of CMA.
Mike has been involved in formal and informal marine science education for more than 30 years. He graduated with a Bachelors degree in Marine Biology and a Master's degree in Biology from CSU Long Beach.
Mike has taught biology at local community colleges and brings to his job a strong background in science education. He has authored or co-authored over a dozen journal publications and three books.
He has a keen interest in finding novel ways to motivate people to learn about and care for the oceans. His research interest is the natural history of plankton with special emphasis on deepsea forms.
He has been a SCUBA diver for over 35 years and is an avid ocean swimmer spending many of his lunch hours swimming at Cabrillo Beach.