Diver Safety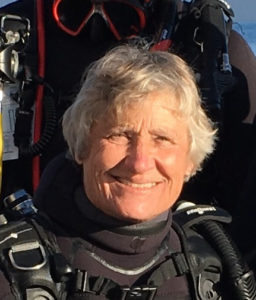 Lori Sherrill PADI Course Director
Lori has always had a passion for teaching others. Seeing the light shine as students understand the materials what made her an exceptional teacher for 38 years in the Whittier Pubic School District. Now retire, she continues to follow her passion, teaching and motivating students in a different classroom-under the sea.
This year Lori will celebrate her 20thyearas a SCUBA Instructor, teaching both beginners and advanced divers. It's clear she loves what she does as her students gain a lifelong appreciation for the underwater world while learning to dive safely and having fun. Enjoying her retirement from the school district, Lori now has the free time to travel and dive in many parts of the world in addition to enjoying he waters off California's beautiful coast. She's experienced the joy of diving under icebergs in Alaska, diving with Whale Sharks in Galapagos Islands as well as seeing all stunningly beautiful anemones in Wakatobi, Indonesia.
If you follow some basic diving safety rules, t should help make sure all your dives are safe ones. While diving is considered a safe sport. It is not without its risks. After all , we dive for fun and we don't want that to stop. Lori will go over some essentials to assure you have done all that is practical to have a fun and safe dive.