Seas The Day SCUBA Shop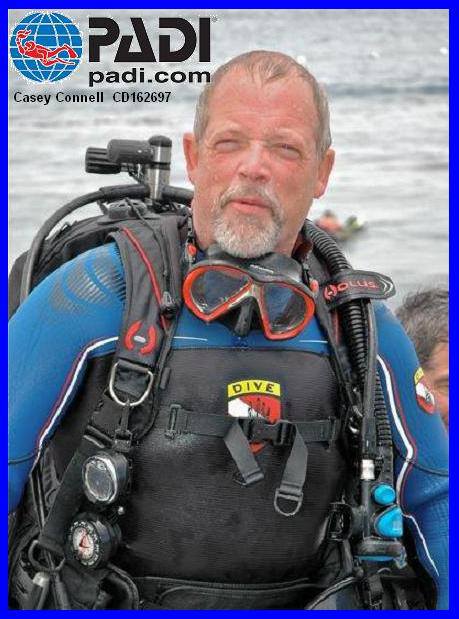 Casey has an extensive SCUBA background spanning almost 40 years. After working in several Dive organizations, Casey decided to take the plunge (pun?), and open his own shop, which he did in May of 2014. Business has grown to the point where a larger facility was needed and in June of this year, Casey opened his larger shop in Brea. Come on over to our meeting and get acquainted with Casey and right hand woman Kelly.
Seas The Day Scuba carries the newest gear for your underwater adventures, backed with unbeatable support. We have trained service technicians to service all of your equipment and our sales staff can help you find exactly what you need.
Seas The Day was founded by Casey Connell, who discovered scuba diving over 30 years ago and wants to share the joy of the ocean with everyone. Whether you're an experienced diver looking to expand their certification or a newcomer that wants to take their first dive, Seas The Day's experienced trainers can help you. We offer an expansive line of PADI certification classes, including technical and professional dive courses. Hundreds have learned how to dive with the help of Seas The Day's teachers — join them today!
In addition to instruction, we offer an in-depth selection of diving equipment and the expertise to help you make the right choice from the very beginning. Professional scuba divers and hobbyists alike can rely on the staff at Seas The Day to give them straight answers to questions about diving gear. We also offer top-flight service on scuba equipment, including your regular equipment inspections and repairs. You can rely on the team at Seas The Day to help you get the most out of your diving investment.
Dive Equipment Maintenance
Every diver knows to take care of their gear, but it can be more difficult than you think to clean and maintain scuba equipment. Trust the staff at Seas The Day to perform regular scuba equipment maintenance that can help you stay safe under the surface. Annual maintenance on any of your equipment can ensure its longevity.
Dive Equipment Repairs
There are some things that even regular dive equipment maintenance can't prevent and that's why we offer full-service dive equipment repairs from our shop in Orange County. Our staff is certified by most equipment manufacturers and can help you save money on new gear with our repairs. Whether your regulator is breathing rough or your buoyancy compensators aren't keeping you afloat properly, we're happy to help.
Scuba Tank Inspections
At our inspection center, we'll make sure that everything is ship-shape before you hit the water. We perform the annual scuba tank inspection that ensures that your tank can be refilled. We also will remind you and help you when your tank needs to be hydrostatically tested (every 5 years). We're also happy to check the rest of your gear if you'd like, as a second pair of eyes can catch things you'd normally miss.