Technical Diving-Global Underwater Explorers (GUE)
Ka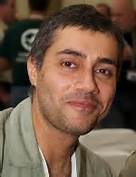 rim Hamza is our featured speaker in March. He will be talking abut Technical Diving as taught by Global Underwater Explorers (GUE).
Co-owner of Hollywoodivers, Karim Hamza started diving in 1999 off Catalina island. Over the years Karim became a NAUI, PADI, SDI, TDI, NAUITEC, PADI TECREC, HSA, and GUE instructor. He is an avid technical diver and technical instructor trainer/examiner for Global Underwater Explorers.
Karim has been fortunate to travel the world and join several expeditions documenting ship wrecks and ghost net clean-ups. His love for the ocean is only surpassed by the love for his wife who is his primary team mate on conservation initiatives in our oceans.
Karim is a regularly invited speaker, where he can share his passion regarding the ever growing problem of ghost fishing. His goal is to promote awareness for the issue, and to present solutions.
Karim is the founder of Los Angeles Underwater Explorers, the local GUE group. He promotes the GUE system of diving through presentation, discover GUE dives, as well as workshops. Currently, Karim teaches exclusively for GUE locally and internationally.
EDUCATION
Loyola Marymount University — BA Business Administration                   BA Film production       MBa marketing